2022 Membership Dues Notice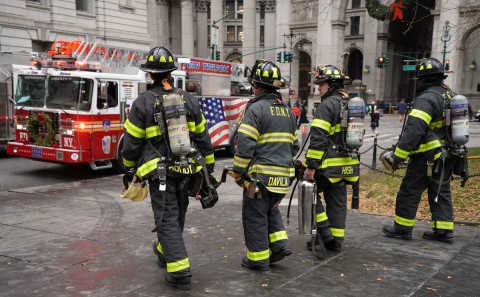 This notice is to inform you that it is time to pay your 2022 dues for the Fire Chiefs Association. Dues are the lifeblood of this organization, and we rely greatly on membership support. The dues structure is listed below.

If you have any questions about dues, you can contact Chris Eysser via text, email, or phone. Contact information is below. If you would like to be removed from the rolls of the organization, please reply to Christopher Eysser via email at This email address is being protected from spambots. You need JavaScript enabled to view it., stating that you no longer want to be a member of the organization.

DUES STRUCTURE
Active Members or those retiring on or after 01/01/2022 - $70 per year
Member Retired on or after 1/1/2002 but before 01/01/2022- $35 per year
Members Retired before 1/1/2002 - $20 per year

PAYMENT OPTIONS
- Automatic Deductions – instructions differ for active or retired members and are enclosed with this mailing.
- VENMO - @FDNY-FireChiefsAssociation – include your name and "FCA Dues" in the notes. If you are asked for a confirmation number, it is 0082.
- Check – made out to "Fire Chiefs Association" and mailed to:
Christopher Eysser
97 Candy Lane
Syosset, NY 11791

If you have any questions, please do not hesitate to contact Christopher Eysser via the phone number or email address below:
Cell – 516-445-1468
Email – This email address is being protected from spambots. You need JavaScript enabled to view it.
We thank you for your support
Stay Informed
When you subscribe to the blog, we will send you an e-mail when there are new updates on the site so you wouldn't miss them.
" target="_blank" href="mailto:
This email address is being protected from spambots. You need JavaScript enabled to view it.
" style="color: rgb(0, 124, 137); text-decoration-line: underline; font-family: Helvetica; font-size: 16px; background-color: rgb(255, 255, 255);">
This email address is being protected from spambots. You need JavaScript enabled to view it.
</a>, stating that you no longer want to be a member of the organization.</p><p><br><strong data-redactor-tag="strong"><u data-redactor-tag="u">DUES STRUCTURE</u></strong><br>Active Members or those retiring on or after 01/01/2022 - <strong data-redactor-tag="strong">$70</strong> per year<br>Member Retired on or after 1/1/2002 but before 01/01/2022- <strong data-redactor-tag="strong">$35</strong> per year<br>Members Retired before 1/1/2002 - <strong data-redactor-tag="strong">$20</strong> per year</p><p><br><u data-redactor-tag="u"><strong data-redactor-tag="strong">PAYMENT OPTIONS</strong></u><br>- <strong data-redactor-tag="strong">Automatic Deductions</strong> – instructions differ for active or retired members and are enclosed with this mailing.<br>- <strong data-redactor-tag="strong">VENMO </strong>- @FDNY-FireChiefsAssociation – include your name and "FCA Dues" in the notes. If you are asked for a confirmation number, it is <strong data-redactor-tag="strong">0082</strong>.<br>- <strong data-redactor-tag="strong">Check</strong> – made out to "Fire Chiefs Association" and mailed to:<br><strong data-redactor-tag="strong">Christopher Eysser<br>97 Candy Lane<br>Syosset, NY 11791</strong></p><p><br>If you have any questions, please do not hesitate to contact Christopher Eysser via the phone number or email address below:<br>Cell – 516-445-1468<br>Email – <a rel="nofollow noopener noreferrer" ymailto="mailto:
This email address is being protected from spambots. You need JavaScript enabled to view it.
" target="_blank" href="mailto:
This email address is being protected from spambots. You need JavaScript enabled to view it.
" style="color: rgb(0, 124, 137); text-decoration-line: underline; font-family: Helvetica; font-size: 16px; background-color: rgb(255, 255, 255);">
This email address is being protected from spambots. You need JavaScript enabled to view it.
</a></p><p><span style="background-color: rgba(var(--fd-gray-50),1); font-family: inherit; font-size: inherit; text-align: inherit; color: rgba(var(--fd-gray-800),1);">We thank you for your support</span>&nbsp;</p></div> ", "author": { "@type": "Person", "url": "https://fdnyfirechiefs.com/blog/blogger/fdny895", "name": "Super User", "image": "https://fdnyfirechiefs.com/media/com_easyblog/images/avatars/author.png" }}